Here are some more pictures of the hottest Fiat 500 on North American soil. In homage to the legendary racing and sport 500s of the past, the MOPAR Fiat 500 GT Concept Car updates that style and brings it into the 21 century.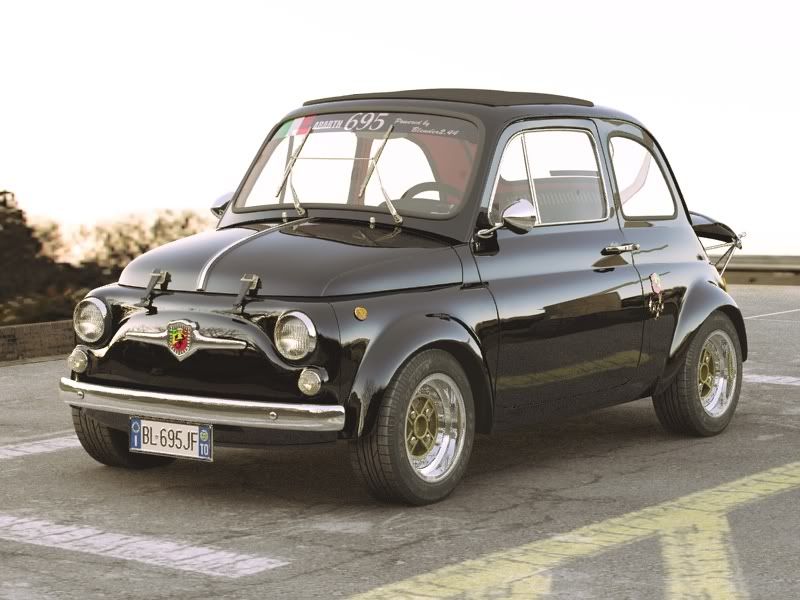 The inspiration: Fiat Abarth 695
In the tradition of numerous European tuners, such as
HAMANN GmbH
,
Pogea Racing GmbH
,
Romeo Ferraris
,
Karl Schnorr
and, of course, Abarth, MOPAR (Chrysler's parts and accessories division) has put their own twist on the 500.
Rest assured, this is just the beginning of customized 500s we'll see in this country and the rest of North America. I can hardly wait!
Fiat USA is Twittering live at SEMA! Catch it
here
.
We'll see more cars with flared wheel arches...trust me
Front airdam/lip and facia mask. Could we see variants of these items in Fiat accessory catalogs?
Rear diffuser and special exhaust treatment. Very tasteful, and that stance...LOVE It!
18-inch Alcoa wheels... NICE!
Let's jump in and go for a ride! (Note the North American Fiat 500s in the background)
500 script in red is a nice touch
Keep up with what's going on by signing up on
Fiat USA's official Facebook page here
.
With thanks to Fiat USA